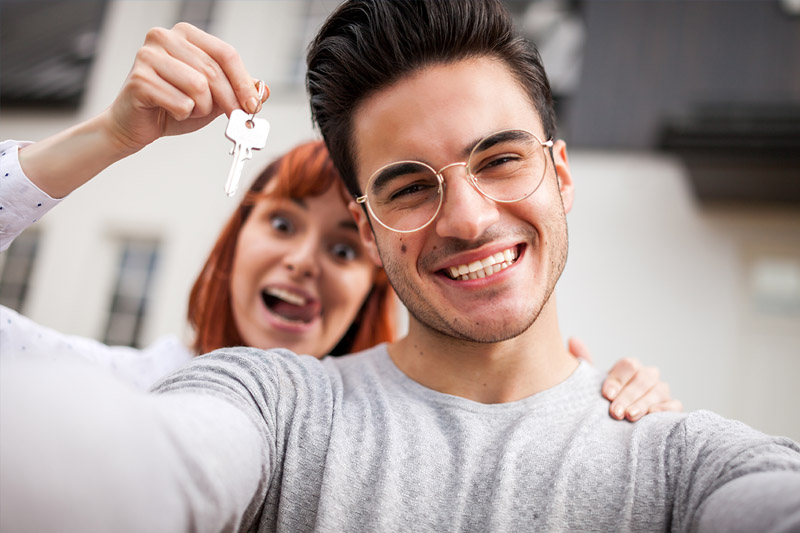 Buying your first home is an exciting time! It's a time when you'll be making one of the biggest financial decisions of your life. That's why it's important to work with a team that can help you navigate the process and make sure you're getting the right loan for your needs.
We are dedicated to helping first-time home buyers. We'll work with you to understand your unique situation and develop a loan program that meets your needs. We're committed to helping you.
First-time buyers understandably have questions and concerns about the home-buying process. Our goal is to educate you on the process and help you make informed decisions. We want you to feel confident about your purchase, and we'll be with you every step of the way.
Understanding Your Credit Score and What It Means for Your Loan Options
Credit scores range from 300 to 850. The higher your score, the better your chances of getting approved for a loan with a competitive interest rate. If you have a low credit score, we can help you understand what steps you need to take to improve your score. Credit scores are calculated based on your credit history, which is a record of your borrowing and repayment activity. Your credit score is one of the most important factors in determining your loan terms. Therefore, it's important to get a clear understanding of your credit score before you start the home-buying process.
Understanding the Difference Between Pre-Qualification and Pre-Approval
A pre-qualification is an estimate of what you may be able to borrow based on the unverified financial information you provide to the lender. A pre-approval is a tentative commitment from the lender based on verified information about your credit history and income. We recommend determining if you can get pre-approved for a loan before you start shopping for a home. This will give you a clear idea of how much you may be able to afford to spend. If you are pre-approved for a loan, an estimate of what size loan you may qualify for will be given to you. You will also be given an estimate of what your interest rate may be. Getting a pre-approval letter from a lender will also show sellers that you're a serious buyer.
If you are not approved for a loan, it is important to remember that credit scores don't improve overnight. Don't give up! You can always revisit the process in a few months.
Understanding the Different Types of Loans Available
There are many different types of loans available, and it's important to choose the right one for your situation. We can help you understand the difference between fixed-rate and adjustable-rate loans, as well as government-backed loans like FHA and VA loans. We'll work with you to find the loan that's right for you.
Popular Loan Programs for First-Time Home Buyers
Fixed Rate Mortgage:  The most popular loan program for first-time home buyers. The interest rate is fixed for the life of the loan, so your monthly principal and interest payments will stay the same (the monthly mortgage payment may vary due to escrows for taxes and insurance).
FHA Loan: A loan insured by the Federal Housing Administration and offered through private mortgage companies like us, that allows for a lower down payment and relaxed credit requirements.  This borrower is responsible for paying the premiums for that insurance.
VA Loan: A loan guaranteed by the Department of Veterans Affairs and offered through private mortgage companies like us, that allows for zero down payment and relaxed credit requirements.  This loan type is only available to veterans and their surviving spouses.
Finding a Real Estate Agent
It's a good idea to find a real estate agent before you start looking for a home. A real estate agent can help you understand the home-buying process, and they can provide you with information on homes that are for sale in your area. We recommend interviewing several agents before you choose one to work with.
You can ask your friends and family for recommendations, or you can search for agents online. When you interview an agent, be sure to ask about their experience, their knowledge of the area, and their track record.
Making an Offer on a Home
Once you've found the perfect home, it's time to make an offer. Your real estate agent will help you determine how much to offer, and they will negotiate with the seller on your behalf. The goal is to get the best price possible without offending the seller.
Sellers may be attached to their homes, and they may not be willing to budge on price. However, if you're not able to reach an agreement, don't be afraid to walk away from the deal. There are other homes out there, and you don't want to overpay for your first home.
During this time, remember the importance of your credit score. We do not recommend making any large purchases or opening any new lines of credit, as this could jeopardize loan approval.  It is wise to speak with your loan officer to see how these and other changes may affect and/or delay the loan application. A loan cannot be fully approved until it successfully goes through the underwriting process.
Closing on Your Home
You've almost reached the finish line! Before the keys to your home are placed in your hands, there are a few things that need to be taken care of. If the loan application is approved, make sure you are familiar with the terms of the loan and be sure to read over the paperwork carefully. Your mortgage loan officer will be by your side to assist with any questions you may have. You don't want to be hit with any surprises, so be sure to ask questions if you don't understand something.
Your New Home
Congratulations! All your hard work has paid off, and you can now start enjoying your new home. This is just the beginning of your journey as a homeowner.
Get started today!
Fill out the questionnaire on this page to start a discussion about your mortgage needs today!